Attorney Jeffrey D. Brownstein
Trial Attorney
Motivated, results oriented attorney. Solutions-focused, diligent professional with a comprehensive background in sophisticated legal analysis, litigation, and client relations management.  Calm demeanor in the face of difficulties; proven success in independently and cost-effectively managing multiple legal projects in fast-paced, deadline-driven environments.  Highly versatile; adept at quickly mastering new roles and responsibilities.  Reputation for integrity, perseverance, and work ethic.  Admitted to Connecticut Bar and Federal District Court of Connecticut.
Core Competencies
Litigation Management
Oral Arguments & Motion Writing
Outside-of-the-Box Problem Solving
Risk Management
Customer Service
Collaborative Teamwork
Arbitrations
Relationship Building
Settlements
Achievement Highlights
Successfully settled a case of first impression in Connecticut, where a new management company lost previous company's records and claimed client owed back condo association fees while putting the burden on him to prove otherwise; after one day in Court, they restored all client's condo privileges and settled by paying my client $4,500.
Client owed IRS over $50,000 and needed immediate assistance; quickly learned this new area of law and obtained Offer In Compromise on his behalf for $3000 to be paid at $125 per month for 2 years.
Sued Sears for negligence, unjust enrichment, and CT Unfair Trade Practices for alleging that client cancelled his lay a way for an engagement ring and received his money back; after several court pre-trials, they settled for $4000 plus an engagement ring of client's choice with a value up to $1300.
Won several administrative appeals in the CT Superior Court and have won in the CT Appellate Court, with solid experience convincing CT Supreme Court to review appeals and argued five cases at the highest court in CT.
Pending CT Supreme Court Case where the court will decide whether a violation of a victim's rights at the defendant's sentencing Constitutes an illegal sentence.
Professional Experience
Solo Practitioner – Meriden, CT: Attorney (1993-Present)
Demonstrate strategic planning and organization skills in proficiently steering case projects from initiation and discovery through court trial, with an emphasis on civil, criminal, DUI, family, divorce, personal injury, workers compensation, insurance subrogation, small claims, landlord/tenant disputes,  employment, employment discrimination matters and appellate advocacy.  Apply strong case management and negotiation abilities in evaluating cases, designing litigation strategies, defending and conducting depositions, and resolving cases through settlement, mediation, arbitration, and trials.  Manage pre-trial strategies to successfully oversee case handling and settlement negotiations.  Closely collaborate with clients to set expectations and achieve goals and objectives, integral to ensuring repeat and referral business.
Selected Highlights:
Appeared  at  state and federal courts to represent clients in civil, criminal, divorce, family law matters, bench trials, evidentiary and administrative hearings, personal injury, workers' compensation, arbitrations, paternity hearings and appeals in Superior, Appellate and Supreme Courts.  Successfully prepared and submitted a diverse range of successful briefs to New York State Supreme Court, Appellate Division.
Awarded Special Public Defender Contracts by State of Connecticut.
Education & Professional Development
J.D. Degree – Vermont Law School, South Royalton, Vermont
B.A. Degree – Plattsburgh State University, Plattsburgh, New York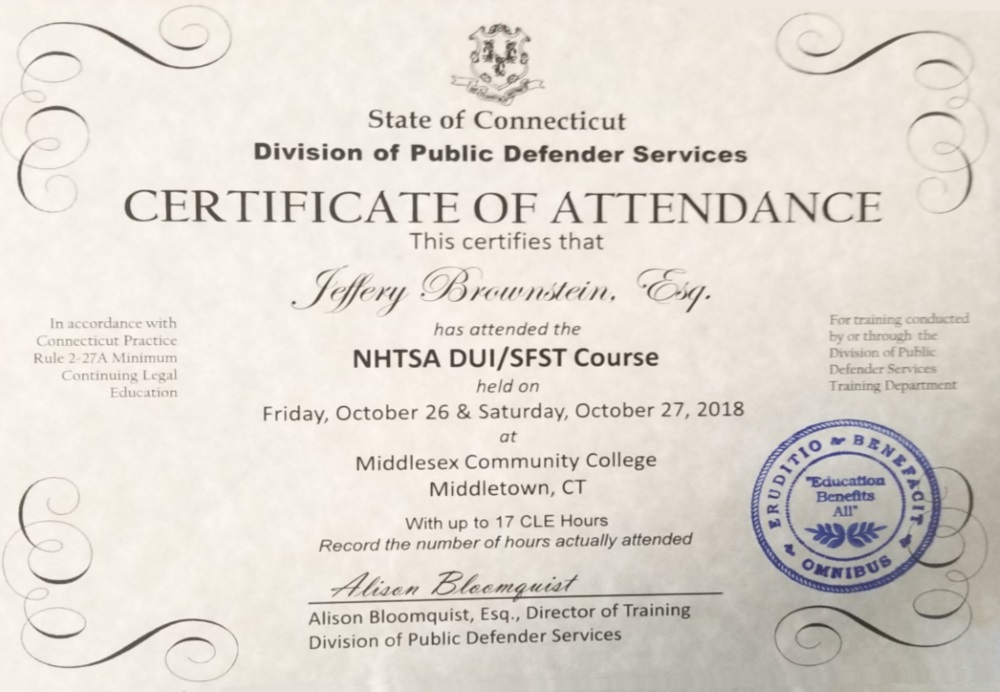 Jeffrey D. Brownstein
Connecticut Attorney